You've browsed Pinterest looking at play space ideas. You'd love to have such a perfect-looking area for your kids! Cute wooden toys and sweet, unbranded dolls, perfectly organized (except the blocks your little one is currently building a tower with). The toys stay contained in the playroom or your kids' bedrooms, and you don't worry what someone will think when they come over.
And then you actually look at your house. There are toys EVERYWHERE. Cleaning the playroom is a major ordeal, because there is just so. much. stuff to put away. Seriously, why are there this many toys? And why does that Poppy doll keep singing "Trolls just want to have fun" over and over?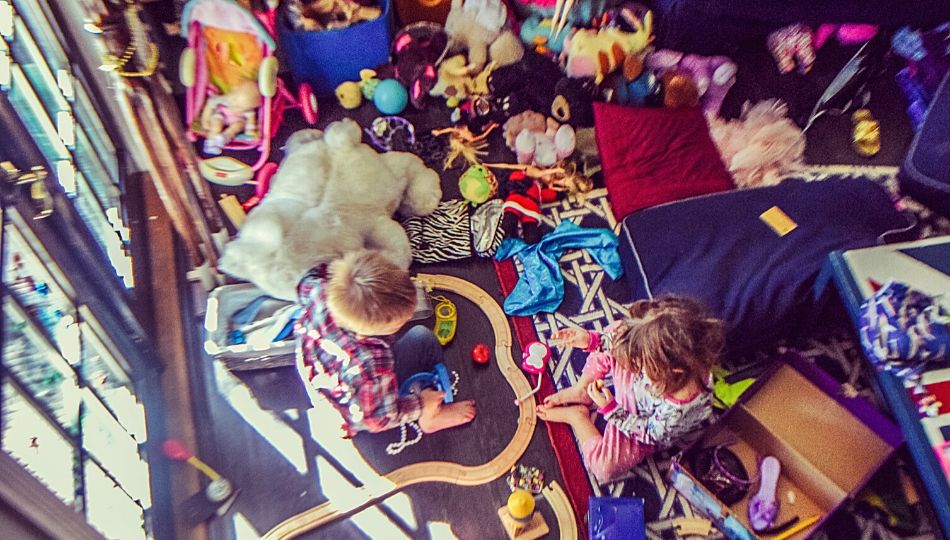 It's not your fault the toys are such a mess.
(Honestly, if Aunt Sally would stop buying the most obnoxious, loud, battery-operated toys possible, that would be really helpful. But she won't.)
On top of that, you have a ton to do every day - shuffling kids from one place to another, sweeping up Goldfish for the third time today... The idea of figuring out how to a toy purge on top of all of it is absolutely overwhelming.
You need...
The Toy Declutter Master Plan
Get the exact framework I used to get rid of the junk you don't need and create more space for fun, imaginative play.
Through the Toy Declutter Master Plan, you'll finally:
Discover which toys to keep and which to get rid of
Deal with the toys you secretly hate (even if they're from Dear Aunt Sally)
Organize your remaining toys to get your kids to play by themselves (so you can get a break for once)!
Create a fun play space for your kids (that's easy to maintain) in less than a week.
And if you need relief right this second, don't worry, there's a fast track for you.
Ditch the toys that are wasting space and your kids just don't need.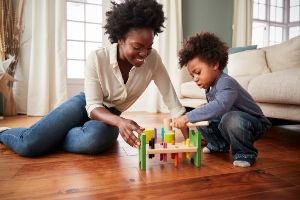 Create more space for play while keeping the things your kids actually love.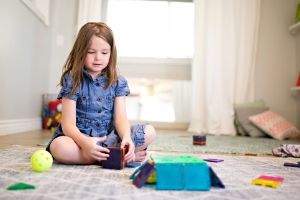 Learn the secret to keeping toys interesting while making them easier to clean up (spoiler alert: It's not more storage bins).
BONUSES
Training video: My 5-minute secret to breathing new life into old toys ($8 value)
Let's be real, kids get more bored with their toys. But what if there was one easy thing you could do right before you go to bed to make sure your kids get up and start playing in the morning (instead of coming in and bouncing on your head)?
Best Battery Free Toy Guide ($8 value)
If everything in your playroom plays for your child (you know, sings and dances and asks "Don't you want to play with me?" if you leave it alone), you might need to choose a few quality replacements for what you let go.
That's why I created the battery free toy guide - It tells you the best toys for open-ended, imaginative play.
When you get the Toy Declutter Master Plan, you'll get exclusive access to these two great bonuses.
Frequently Asked Questions:
Really? You can declutter #allthetoys in only five days?
Yep. I've seen it work for lots of people, even if they have a huge number of toys to get through.
Do I have to dedicate my whole life to decluttering during this five-day period?
Nope! In fact, you could try to cram this process into fewer days, but there's a good chance it would lead to burn-out. This framework is designed to give you a quick daily win with only 30-60 minutes each day. That way, you're motivated to keep going.
Um, won't my kid get mad that I'm getting rid of his/her stuff?
How many of your child's toys just sit there, that he pretty much never picks up? Trust me, he won't miss it.
In fact, your kid is likely to be so excited about the newfound space that he never even notices fewer toys.
You really think my kid will play alone more with fewer toys?
When you use the toy organization secret from Day 5 in the Toy Declutter Master Plan, you'll discover how to make play time easier to clean up while keeping toys interesting (instead of your kid playing with a toy for a week and then never touching it again).
Is it really worth money to learn how to get rid of toys?
Think of it this way: If you buy a new toy every time your child is bored with her current ones, that's going to add up pretty quick. But using the organization secrets in this course, you'll save money in the long run by making current toys more engaging.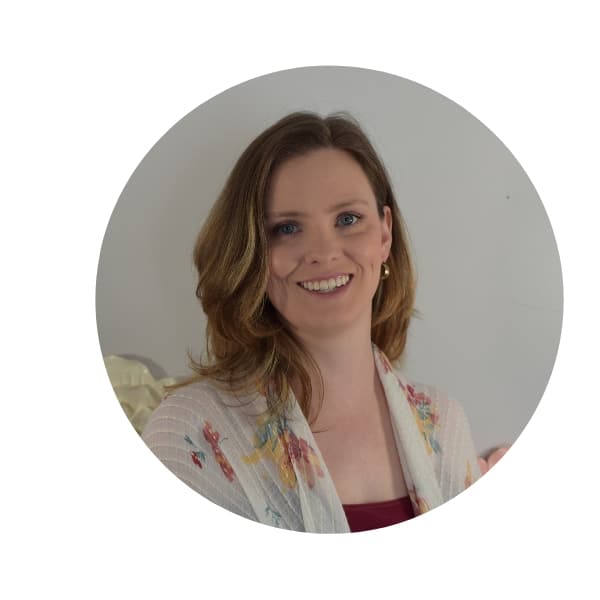 Hi, I'm Samantha.
As a business owner and mom of four, I don't have time to keep up with a bunch of extra stuff. That's why I developed the Toy Declutter Master Plan - to simplify my life while keeping things fun for my kids.
Let this method help you as much as it's helped so many other moms!