Let's learn to respond, not react, to what's going on around us.
You've been there: You're trying to get dinner on the table. Your oldest two kids are arguing over a toy, yelling for you to dispense justice. The toddler is hangry and wailing, wrapped around your leg while you're trying to cook. And of course, your husband is kept late at work (again). Learn how to handle the stress of daily life without freaking out on everyone around you!


Who is this course for?
From Reactive to Responsive is for any parent who has ever been stressed out! This course is perfect for you if you've ever felt like any of these:
You're overwhelmed by daily life. Even just the day-to-day challenges of life with kids sends you over the edge.
You frequently lose control with your kids. It's like no matter how hard you try, you can't keep it together.
Not just your relationship with your kids is suffering. Your stress causes you to sometimes snap at your partner or other loved ones.
You're tired of just surviving until bedtime. You want to actually enjoy your kids, not just get through the daily grind of life.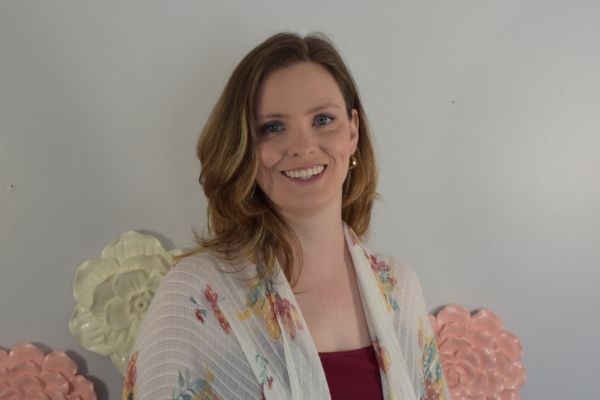 Hi, I'm Samantha!
I received my PhD in Chemistry and Public Health in 2012. After that, I taught at the college level for 8 years. I focused on the intersection of chemistry and maternal-child health.
Since having children of my own, I've become even more interested in child development! I've used the research skills from my academic training, plus my personal experience, to learn what parents can do to thrive while raising kids who respect both others and themselves.
✓
Recognize the habits of thoughts and actions that keep you trapped.
✓
Retrain your mind with new thoughts that reduce your stress.
✓
Get tools you need to teach your kids emotional self-regulation too!
Frequently asked questions:
When does the course start and end?
The course starts whenever you're ready! And while it's set up with week-by-week chapters, it's self-paced. You decide when to start and when to finish.
Who is the course NOT for?
From Reactive to Responsive is not not a quick fix, so if that's what you're looking for, this course won't be for you. I am not here to offer you "parenting hacks" or to guarantee results from using "this one simple trick," because let's be real, parenting isn't something that you hack. 
This course will require some thoughtful self-evaluation and participation for you to receive the full benefit from it.
How long do I have access to the course?
You've got lifetime access! So go back to parts you want to check out again, or get a refresher even years later.
What's your qualifications?
This program is not therapy. I am not a psychologist, and I am not able to diagnose or treat any clinical conditions. If you are suffering from severe depression or anxiety, please seek help from a professional therapist.
The thing is, I have been there. I know what it's like to be on the edge of losing control because you're so overwhelmed by life with your kids. And I've done a lot of research and a lot of work to get through my own issues (plus, I'm learning every day!). I know that what I'm sharing can help you.